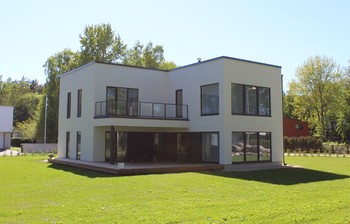 Modern 225
| | |
| --- | --- |
| | House heating costs: 76 €/Month |
All prices are inclusive of VAT (20%).
Classic 117
| | |
| --- | --- |
| | House heating costs: 41 €/Month |
All prices are inclusive of VAT (20%).
Modern 350
| | |
| --- | --- |
| | House heating costs: 183 €/Month |
All prices are inclusive of VAT (20%).
---
Products and services
Engineering services

We will design the suitable house blueprint project for you in a month! Wealso acquire the building permit, offering a comfortable and fast full service. If you order from our house factory, you get the design for free! Our architects and engineers have designed more than 200 detached houses, semi-detached and terraced houses as well as apartment buildings.

Modular houses production

We are experienced in manufacturing both detached houses and apartment buildings of ready modules. A modular type of house takes less time to construct as it usually takes less than an hour to build a module. In order to have a modular house constructed, we recommend you to use our architectural solutions only, as it takes into account the special requirements of the modules.

Prefabricated houses production

We manufacture houses both to customer design and our architects design. We are familiar with the building requirements and have carried out works in Estonia, Finland, Sweden, Norway, France and Germany. Among our clients are private customers as well as construction and real estate businesses.

Services for business customers

Designing and manufacturing terraced houses, apartment buildings and other types of buildings. We offer professionaland complex engineering and architectural solutions. Since we have been engaged in real estate development, we understand and are always able to meet the developerexpectations.
Some examples of the custom-made works of our architects
Classic or modern styles. Modern interior layout: enough rooms, walk-in closets, large balconies and terraces, etc. according to your wishes and needs.
We construct detached houses, terraced houses, apartment buildings and complete housing estates
| | | | |
| --- | --- | --- | --- |
| Apartment buildings | Detached houses | Terraced houses | Housing estates |
| | | | | |
| --- | --- | --- | --- | --- |
| Modular houses | | Prefabricated houses | | Services for developers |
Contact
(+372) 6 229 221
(+372)
50 61 409
We speak English